County's homes twice average size; development rush causes big impact

By Joel Stonington
August 6, 2006
Large homes in America are more popular than ever, but Pitkin County is in a world of its own. Here, the average new home under construction is double the national average in size.
In 1950 nationwide, the median home under construction was 983 square feet. By 1970 that number was 1,500 square feet, and in 2005, it was 2,434 square feet. Pitkin County's average new home today is 4,953 square feet, and more than 10 percent of them are more than 10,000 square feet.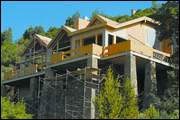 "It has a late empire of Rome feel to it that's kind of disturbing," said County Commissioner Mick Ireland. "Excess, everywhere you look."
The new land-use code, which the county passed in the beginning of July, is the first Pitkin County code to set an outright cap on house size. That change and others caused a flood of permit applications for new homes and additions.
There are now 132 open permits for new single-family homes in Pitkin County that have been approved, issued or are pending, according to county records. Eighty-seven are for homes larger than 5,000 square feet, and 15 are permits for homes in excess of 10,000 square feet.
"The general atmosphere is one of fear in terms of eventually reducing house size in the future," said Tim Estin, a broker associate with Mason & Morse. With prices so high in the area, Estin said, there is an economic tendency for builders to max out allowable square footage.
Perhaps less obvious is the pressure from prospective homeowners. "With the higher prices, people want to justify it with larger homes," Estin said. "How do you justify multimillion-dollar houses? Who is leading who there? It has a way of building a momentum of its own."
Since 1975, nearly all gains in household income have gone to the top 20 percent of households, according to the Central Intelligence Agency Factbook.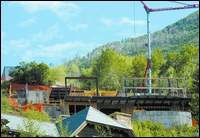 "Luxury outlets are booming while the low economy is struggling," Ireland said. "The top percent is prospering mightily while everyone else, even doctors and lawyers, are stagnating. So it doesn't surprise me that there is a lot of upper pressure."
But many of the people who own these houses don't want to talk about them.
"It's not appropriate for it to be discussed in a newspaper," William C. Powers, whose home is larger than 15,000 square feet, said in an interview after the county banned houses that size. "I think it's a violation of individual rights to restrict the type of home people live in. It's outrageous for a local group to interfere in the choice of others."
Large homes do have an impact beyond the owner, however, on things like county infrastructure.
"There's a lot of capital improvement needed because of development in the upper county," said Brian Pettet, Pitkin County's public works director. He offered as example the more than 20 homes currently planned for Red Mountain, eight of which will be larger than 10,000 square feet. Because of all the construction, Pettet plans to ask the county commissioners to hold off on a $2 million road project up there.
"We don't want it torn up by construction traffic," said Pettet. "There's a statistic that says one loaded dump truck causes the equivalent damage of 3,000 single-passenger cars. We would rather have the construction work take place, [rather] than come in after the fact and fix it correctly so it will last a long time."
Another effect is the number of employees necessary to take care of large houses and their grounds. According to a county study commissioned in 1999, homes larger than 3,500 square feet generate considerably more demand for services such as cleaning and gardening than homes below that threshold. And even an energy-efficient house that is 8,000 or 10,000 square feet releases large amounts of greenhouse gases.
"There's a trend, nationwide that houses are getting much bigger, and we are increasing the amenities in all of these houses," said Dan Richardson, Aspen global warming coordinator. "The trend we're seeing, including the trend in luxury homes, is moving in the opposite direction of which we need to go."
Even so, Richardson did say that big houses don't necessarily translate to big pollution. In the city's recent greenhouse gas comparison of various houses, total emissions were greater in one 8,000-square-foot house than in one 11,000-square-foot house.
"Size doesn't necessarily mean they'll use more energy," Richardson said, though that doesn't mean big houses are off the hook. "It's been my experience in a lot of these homes that there is a lot of energy use for a little personal use, regardless of the size of the house.
Plus, there is no regulation of how the energy is used, only of efficiency. So leaving the lights on turns more efficient house into a greenhouse dud.
Perhaps the trend of big houses has gone too far when even real-estate agents say they'd like to see more smaller homes.
"I have noticed out-of-town buyers come in – and it's not overall – but I've heard it, they say, 'I can't believe the size of the homes in Aspen, we don't need another primary home,'" Estin said. "There is an opportunity in the market for builders to build smaller-scale homes."
Joel Stonington's e-mail address is jstonington@aspentimes.com