There's little to report this week except what one might think …Aspen is quiet and much like a ghost town. Other than the 15″ snowfall we received yesterday, Sat. April 24th, tumbleweed will shortly be blowing down Main Street as the local population takes off for warmer climates.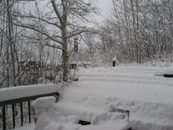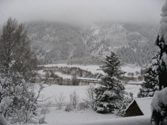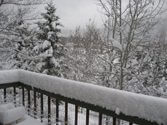 Photos from my porch yesterday.
Interesting real estate reading from the past week:
1) Recent Aspen Downtown Commercial Real Estate reports in Aspen Daily News and by The Red Ant, a small Aspen gadfly political organization.
2) Dan McCarthy of www.viralhousingfix.com recent comments and charts on housing recovery.
3) Because of the big Monarch Penthouse sale this week at $10M (described below), see The Estin Report: Monarch on the Park/Limelight Lodge Condo Sales History since 2008
Here is Aspen, Snowmass Village, Woody Creek and Old Snowmass – the upper Roaring Fork Valley – real estate sales activity for all property types over $250,000, excluding fractionals, in the past week. For a property and sales summary,see The Estin Report: Aspen Snowmass Weekly Real Estate Sales Statistics April 18 – 25, 2010
Closed (1): MLS# 109635. This link is valid for 30 days until 5/24/2010.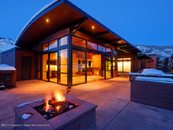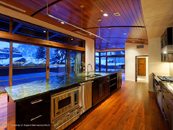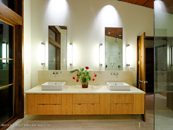 MLS #109635 – Monarch on the Park/Limelight Penthouse #301, Aspen, CO: Sold Price: $10,000,000/$1,911 sq ft ; Ask Price: $11,950,000/$2,283 sq ft (sold at -29% of Original Price: $13,900,000. and 428 days on the market). Drop dead gorgeous and convenient central downtown completed in 2008. The listing broker writes, "With sweeping views of Aspen Mountain, Wagner Park, and downtown Aspen, this spacious top floor residence offers a vast corner terrace with outdoor living space and a fire pit. The open floor plan features 4 bedrooms, 4.5 baths, 5234 sq ft, magnificent sky-lit great room, state of the art gourmet kitchen, master bedroom with fireplace & private balcony, floor-to-ceiling windows, hardwood doors & cabinetry, zone-controlled air conditioning, extra storage, hot tub, and enclosed 2 car garage. Walk to the gondola, restaurants, shops, parks, and bike paths. Brand new construction just completed." An important sale and a reminder of the fact that new construction property inventory completed in 2007-2009 is "fast" disappearing. And there is currently no new product being built. Period. (Photos and description courtesy of Morris & Fyrwald, Sotheby's International Real Estate)

Under Contract/Pending (6): MLS #'s105370,112502, 109182, 105724, 115457,114212. This link is valid for 30 days until 5/24/2010.Photos of under contract properties are not posted unless special circumstances dictate.
_________________________________________________________