Colorado Public Radio Host Ryan Warner Interview on "Aspen's Real Estate Market Recovering" – Monday, March 7, 2011 (conducted Feb. 28th)
By Pat Mack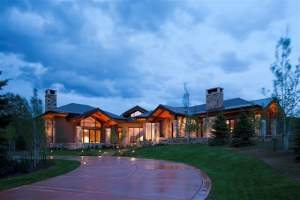 Star Mesa Estate recently sold for $16 million. Photo courtesy of Aspen.com.
Real estate brokers in Aspen thought they were safe. They didn't think anything could derail their booming market. Then the recession hit. Two painful years later, a turnaround is beginning, signaled by some high dollar sales. Since the end of January, six homes have sold for more than $14 million. Tim Estin, a broker with the Aspen firm Mason Morse Real Estate, blogs about Aspen real estate in The Estin Report. Colorado Matters host Ryan Warner talks with Tim about what's helping the market heal.
The Estin Report 2010 Aspen Snowmass Real Estate Market
_______________________________________________________________________