Released 11/20/17
             Aspen Charts         Snowmass Village Charts
Clients often ask, "Where are we now compared to the Great Recession…?". My interest in creating this series of charts is to answer that question for myself and to offer a visual reference for that conversation – to compare Aspen and Snowmass Village sales activity now to pre-recession mid-2000's levels.
The charts are: the historic pace of dollar and unit sales since 2006 for Aspen and Snowmass Village (SMV) respectively by property types: 1) all property types combined; 2) single family (sf) homes; 3) condos; 4) vacant land / lots. (Fractionals, with the exception of extreme sales, are not included.)

As the unit sales drop-off in the 2nd Half 2007 so foreshadowed the Great Recession, sales velocity or pace, whether by dollar or unit sales, is useful to consider.

While many real estate professionals use dollar sales as the single metric for sales performance (it often looks 'better'), unit sales are a more accurate measure of market activity – are sales increasing or decreasing? Dollar sales, on the other hand, can be skewed disproportionately by extreme high or low end sales.

In these charts, the starting point for the trend line is 2006 but where the trend line commences will affect its outcome…If the charts had started at 2009, the trend would be more upwards at present than is shown here. (I may add more trend lines showing different starting points.)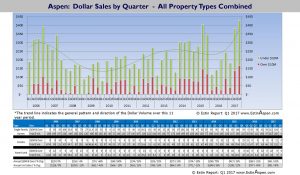 Aspen PDF
Links for Aspen and Snowmass Village Historic Dollar and Unit Sales charts by Quarter and by Property Type: single family homes, condos and vacant land / lots.
Snowmass Village PDF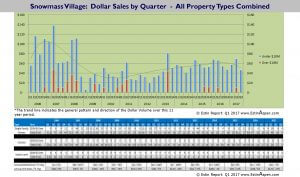 Disclaimer: The statements made in The Estin Report and on Aspen broker Tim Estin's blog represent the opinions of the author and should not be relied upon exclusively to make real estate decisions. They do not represent the opinions or statements of Aspen Snowmass Sothebys International Real Estate. A potential buyer and/or seller is advised to make an independent investigation of the market and of each property before deciding to purchase or to sell. To the extent the statements made herein report facts or conclusions taken from other sources, the information is believed by the author to be reliable, however, the author makes no guarantee concerning the accuracy of the facts and conclusions reported herein. Information concerning particular real estate opportunities can be requested from Tim Estin at 970.309.6163 or by email. 

The Estin Report is copyrighted 2017 and all rights reserved. Use is permitted subject to the following attribution with a live link to the source: "The Estin Report on Aspen Real Estate."
_____________________________________________