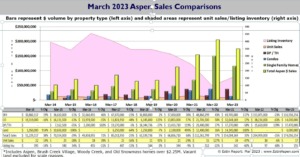 Estin Report chart. 4/7/23 Aspen Times article excerpt:
As property values rise, so do property taxes. But most property owners in Pitkin County will be shielded from intense tax hikes…Tim Estin is a local Aspen Snowmass Sotheby's broker who writes about the Aspen real estate market.  
Data from the Aspen MLS shows how prices are steadily rising. He reported that the median price for a single family home in the Aspen market hit $13.96 million, or $2,424 per square foot in March2023. A year prior, buyers paid a median price of $11.625 million, or $2,205 per square foot…
Click image to enlarge chart.