The Estin Report Aspen Snowmass Report market report posts a 10-page snapshot* on or near the 1st Mon. of each month.

Bottom Line Jan 2023
While inventory of properties for sale remain at record lows, in Jan we saw a 53% increase in Aspen inventory and in Snowmass Village a 179% increase. This is a positive sign that perhaps market dynamics are changing more slightly in the buyer's favor. But it's still a seller's market with perhaps a bit more room for negotiation rather than a seller's strong arm tactics. Where a seller's mantra to buyers in 2020-2022 may have been something like "Beggars can't be choosey", now a buyer may feel more like responding politely, "Yes, you are right but I do remember from my days on the farm that pigs get fat and hogs get slaughtered." I heard these expressions recently used in this context from long time noted Aspen attorney Tom Todd (Holland & Hart), loved them and thought very apt to use here.
In mid-Jan, East West Partners, the Snowmass Base Village owner developers, released a new slope-side condominium project called Cirque x Viceroy adjacent to the existing Viceroy Hotel Condos. By late Jan, the project had (41) of a total (46) two-four bedroom units under contract at list prices of $2.5 million to $11.75 underscoring buyer's voracious appetite for new built slope side product. (See report pg 2 below for 225% surge year over year in Snowmass Village's under contracts).  Additionally, the developer's single family slope side project, The Havens at Fanny Hill, closed on (7) of the (10) total new homes in late Jan 2023.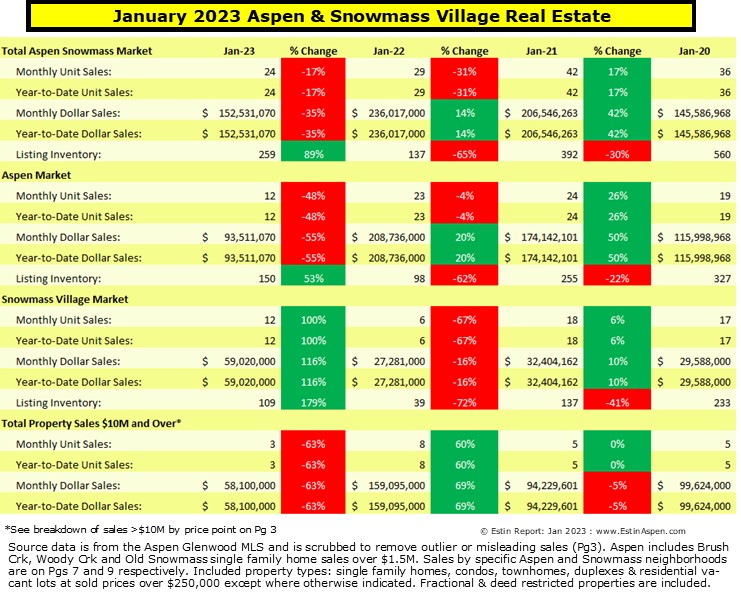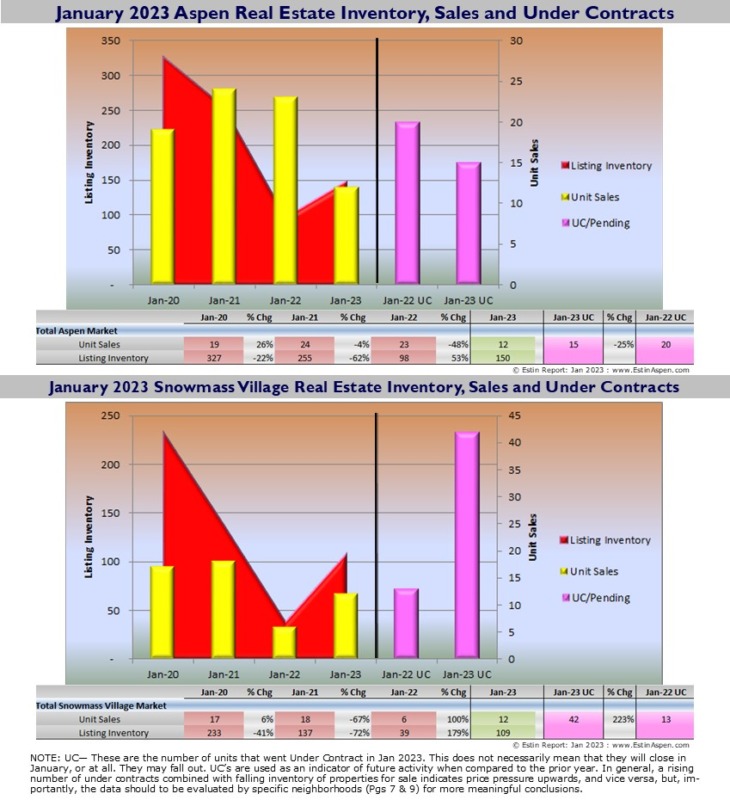 Links to Jan 2023 Aspen and Snowmass Village Sold Property Photos and Details:
Aspen Jan 2023 Closed Properties.   This link is valid until 3/1/2023
Snowmass Village Jan 2023 Closed Properties. This link is valid until 3/1/2023
Released Feb 14, 23 based on data collected on Feb 1, 23  from the period Jan 1-31, 2023
For sales assistance & inquiries, please call/txt Tim Estin, Aspen Snowmass Sotheby's broker, at 970.309.6163 or email.  
The Estin Report publishes a 10-page monthly Aspen real estate market "Snapshot" on or near the 1st Monday of each month.  The Snapshot presents a "bottom line" summary and raw data of the subject month and YTD performance for residential real estate sales in Aspen and Snowmass today. It includes on and off-market sales and scrubbed data to remove "outliers"  to deliver the most accurate and relevant data available. There are (3) sections: 1) Total combined Aspen Snowmass Village Market; 2) The Aspen Market; 3) The Snowmass Village Market.  It features charts, tables and 30-day live links to photos and details of sold properties and compares the subject month to the same time in prior years. The Monthly Snapshot is the only Aspen and Snowmass property sales information widely published in a timely and consistent manner early each month.
The charts and tables in these market reports document residential sales activity for Aspen and Snowmass Village. "Aspen" includes Aspen, Brush Crk, Woody Crk and Old Snowmass single family home sales over $1.5M in the subject month. Included property types are single family homes, condos, townhomes, duplexes and residential vacant land at sold at prices over $250,000. Fractionals, mobile homes, deed restricted and commercial properties are not included. 
Source data is from the Aspen Glenwood MLS. It is scrubbed to remove outliers and sales that the author believes are misleading. For example: In the MLS, a mobile home sale is recorded as a single family home sale. Here, it is counted in the total dollar and unit sales figures but not as a single family home sale. Another example, a 1950's small home on 3 acres at a perfect river's bend walkable to town is recorded as a $35M single family home sale but in Estin Reports it's counted as a vacant land sale. If counted as a home sale, it would skew average and median sold prices and price/sq ft metrics significantly, and inaccurately, higher. This information is deemed reliable but cannot be guaranteed.
The Estin Report© is copyrighted 2023 and all rights reserved. Use is permitted subject to the following attribution with an active link to the source: The "Estin Report on Aspen real estate."