Bottom Line
Units sales are down about 50-55% year to date in the Aspen and Snowmass Village real estate markets. Dollar sales are slightly ahead of last year, a reflection of sold prices remaining quite firm. Inventory, though rising 23% in Oct, continues to be at record lows justifying high prices in seller's minds. In the past 2-4 months we are seeing incremental decreases in ask prices but not the fall off  buyers are anticipating. Sold prices compared to ask are approximately minus 3-7% off ask whereas they used to be minus 0-3%. There still is little room between ask and sold prices but there seems to be more negotiating.
Buyers

> wait and see mode…waiting for reality check by sellers for prices to come down.
> holding pattern
> buyer's "retreat"
> there are a number who want to wait and see if prices dip severely, as they did in 2009-2013.
> market is rapidly changing but there still have been some big ticket sales in the $30M+ mark …some representing legacy properties, not available for 50+ years, that have recently traded. 
The market likely peaked sometime late spring 2022. It has significantly changed since then in terms of unit sales which are down dramatically, down 50%+ year to date depending on property type and neighborhood.
Sellers
Just because my metrics, or anyone else's, indicate a significant slowdown does not mean a seller will agree or care, if at all.
It has not been uncommon in the past year for sellers to price their property 15-30%+ above the most recent comparable sale simply because inventory has been so low.
Sellers say, "What else are you going to buy?" No matter what the data says, or suggests, this is still a very subjective game.
Sellers can either wait till they get the price they want, with the holding power many Aspen owners possess – maybe that's into perpetuity – or they can get real with where the market is now, sell and take their profits elsewhere where there are likely better opportunities.
Low inventory in such a small real estate market as Aspen's really can justify higher prices. The basic math: We are surrounded by 92% public or conserved lands plus we have much terrain – steep slopes, ridge lines and river valleys where building is either prohibited or severely limited. And strict zoning to protect our natural landscape and community quality of life further constrains resulting in housing and land supply limitations. Even in a good market, there's only so much.
Yes, more properties have been coming on, about 17% more in Oct '22 vs Oct '21, but it does not alter the reality that we still have the lowest number of active listings available for sale of the past 15+ years. 
Where are prices headed? 
The 2022 YTD 50% slowdown in unit sales needs to be put into context especially when asked if I think prices will decrease considerably due to all the uncertainty, inflation, high interest rates, recession concerns, Ukraine worries, etc…?
Aspen's 2 1/2 – 3 year Pandemic period brought our small community to the forefront of one's definition of what "quality of life" seriously means for many. It was, and still is, an existential question, "If the end of the world is near, where do I want to be, where do I want to live?"
More people chose Aspen than ever before. Ten years of the future upon us now as author Scott Galloway has written in "Post Corona: From Crisis to Opportunity".
Property demand surged and while sales have slowed in 2022, that doesn't alter the fundamental shift that has occurred: Vacation market to second homes to more full-time living.
Our area is where many with resources want to live, and live well, with the ability to work, telecommute and/or physically commute to distant offices 3-4 days a week. Demand has spiked big time.
So how does one thread this needle and get in?  The plain and simple, it's nothing enough money can't handle. Pay to play. Demand up; supply down.  Maybe not in the short term but, overall, prices have nowhere to go but up.

There have been (9) Aspen home sales over $40M YTD (thru 11/03/22) = 8 listed properties plus 1 off market   This link is valid until 12/4/2022.
Under Contracts/Pending (Pg 2)
The pendings or under contracts in Oct 2022 are down 60% in Aspen and 46% in Snowmass Village. Under contracts are seen as indicators of future activity. These are properties that went under contract in October and can be expected to close in Oct/Nov. or not at all. Not all contracts close. 

Oct 2022 Aspen
Pendings: (12) Oct '22 vs (30) Oct '21, -60%
Sales: (21) Oct '22 vs (44) Oct '21, -51%
Oct 2022 Snowmass Village
Pendings: (13) Oct '22 vs (24) Oct '21, -46%
Sales: (11) Oct '22 vs (24) Oct '21, -54%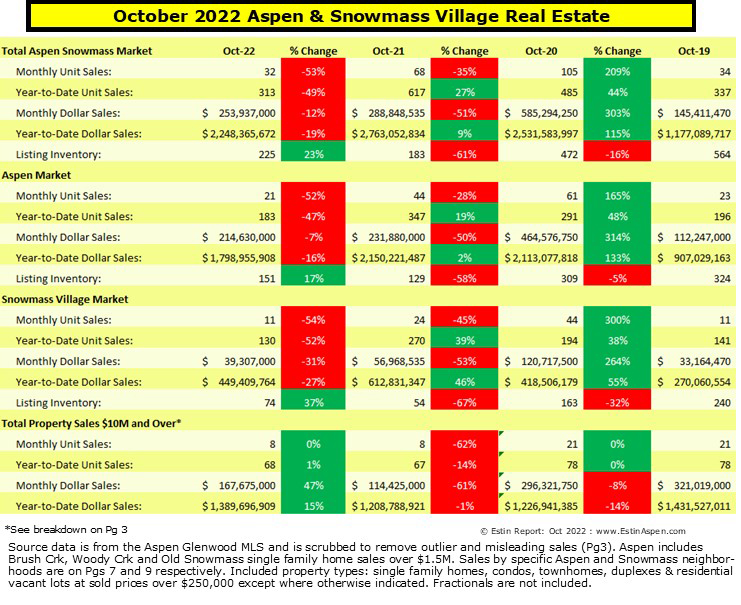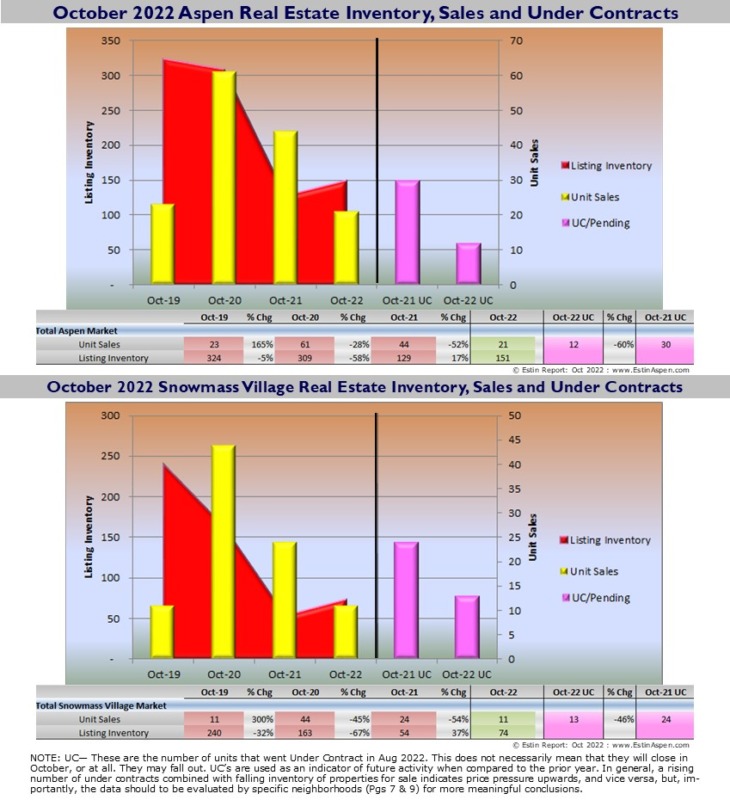 Oct 2022 Median Sold Prices & Median Sold Prices per Sq Ft (pg 4)


Links to Oct 2022 Aspen and Snowmass Village Sold Property Photos and Details:
Aspen Oct 2022 Closed Properties.   This link is valid until 12/1/2022
Snowmass Village Oct 2022 Closed Properties. This link is valid until  12/1/2022 
Vacant Lots Oct 2022 Closed Properties. This link is valid until   12/1/2022
Released Fri. Nov 4, 2022 v1.75