Last week's sales activity is posted below. The Estin Report: 3rd Quarter 2013 State of the Aspen Market (July 1 – Sept 30 and Year to Date 2013 ) will be released soon but preliminary results are posted below on the Oct 7, 13 blog. Scroll down page for photos and details of weekly solds and under contract /pending Aspen properties in the past 4 weeks. For earlier dates, use the down arrow to search the blog archives by year and date. Or use SearchEstinAspen to search by topic, address, subdivision or complex name, date etc. If it's about Aspen real estate, information should be here.
Aspen Snowmass Village Real Estate
2013, 2012, 2011 Summer Sales Comparisons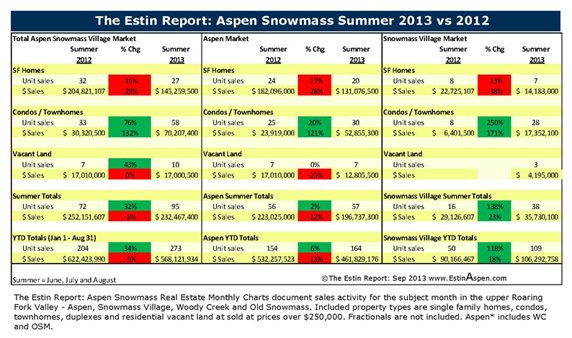 click to enlarge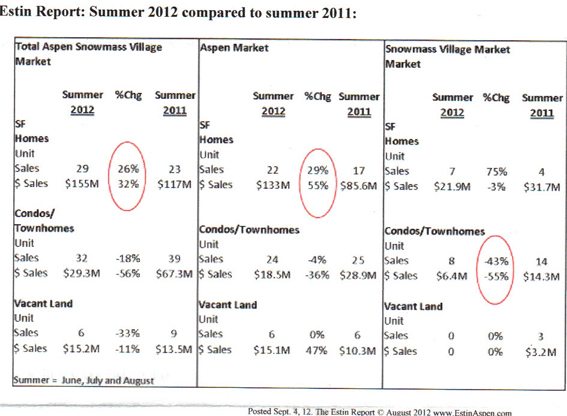 Last Week's Market Activity: Aspen Snowmass real estate weekly sales and under contract activity appears below for all Aspen, Snowmass Village, Woody Creek and Old Snowmass properties over $250,000 excluding fractionals in the upper Roaring Fork Valley. As the MLS links below expire after 30 days, photos and written descriptions of select closed properties (those with excellent photography) are posted to preserve an archive of sold market activity.
Market activity has increased significantly in September and early October 2013. The early fall season is typically when properties that have gone under contract over the summer – particularly in August – close and the final sold prices are revealed. There is a "normal" spike in sold activity in April/May and Sept/Oct each year.
Closed (14): MLS #s 125421,125730,125935,126375,127240,130124, 130369,130478,131203, 131242,131489,131571,131683,131729. This link is valid until 11/4/2013..
Under Contract / Pending (7): MLS # 116231,126556,130240,131006,131093,131210,131717,131652. This link is valid until 11/4/2013.
Aspen Snowmass Solds Last Week
Due to the end of the 3rd Quarter and work on the pending quarterly report to be released soon, photos and details of sold properties from last week will be posted as time permits this week. In the meantime, please refer to the links above for information on those properties.
The Estin Report: Q3 2013 : The report is presently in process but here are some preliminary findings without analysis on Aspen and Snowmass Village sales during the 3rd Quarter (July 1 – Sept 30) and 2013 Year-to-Date.
TOTAL COMBINED ASPEN AND SNOWMASS VILLAGE MARKET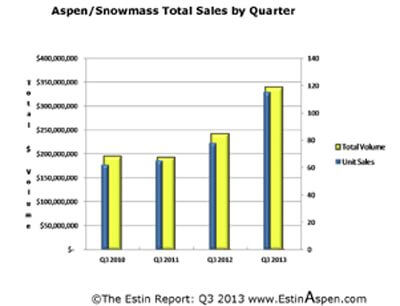 Q3 2013 is the best 3rd Quarter in the past 4 yrs since 2010.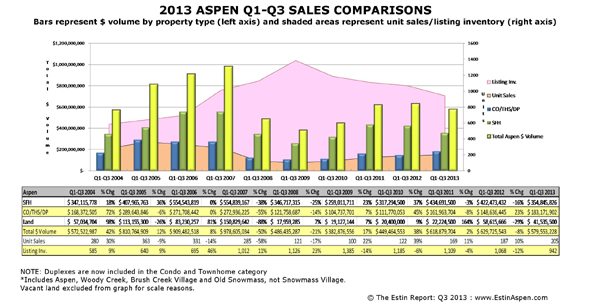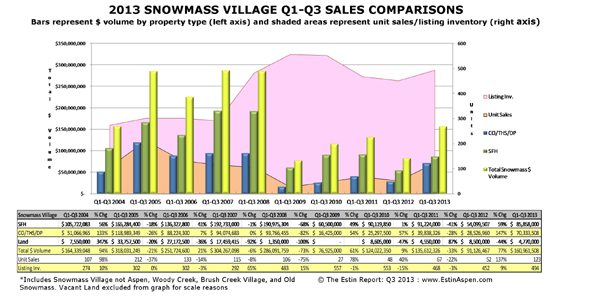 Recent Estin Report tweets on Aspen Real Estate
{loadposition articlepos}
Disclaimer: The statements made in The Estin Report and on Tim Estin's blog represent the opinions of the author and should not be relied upon exclusively to make real estate decisions. A potential buyer and/or seller is advised to make an independent investigation of the market and of each property before deciding to purchase or to sell. To the extent the statements made herein report facts or conclusions taken from other sources, the information is believed by the author to be reliable, however, the author makes no guarantee concerning the accuracy of the facts and conclusions reported herein. Information concerning particular real estate opportunities can be requested from Tim Estin at 970.309-6163 or Email him. The Estin Report is copyrighted 2013 and all rights reserved. Use is permitted subject to the following attribution with link to the source: "The Estin Report on the Aspen real estate market"
_______________________________________