Apr 19 – 26, 2020 Estin Report: Last Week's Aspen CO Homes for Sale and Snowmass Real Estate Sales & Stats: Closed (2) + Under Contract / Pending (6).  [To view the new blog post, you may have to "Clear your Browser Settings". Go to: Chrome browser/more tools/clear browsing data.]  
The Estin Report Aspen Snowmass real estate Mar 2020 market snapshot was posted Tue April 7th in Current Reports. The Arpril 2020 & YTD Snapshot will be posted late this weekend.
Bottom Line:  April 13, 20. Aspen and Snowmass real estate market activity has declined dramatically in the past 4 weeks. The Estin Report has created a downloadable Aspen and Snowmass Village chart series documenting fall throughs (deals that didn't close), under contracts and solds in Feb and Mar 2020 vs same period 2019. Links to these are on Top Page 1 of the snapshot.
On average, sales through March are fairly even with last year – but these were mostly sales that went under contract in Feb and earlier in March. We've yet to see the slowdown's effect on actual sales as there is generally a 30-60 day lag time from under contract to closing.
A big winner has been properties sold at $10M and over where there were (5) sales in Mar '20 versus (0) last March. Sales of this high-end class are up 50% through March '20 YTD, (9) now vs (6) last year.
But the big hit due to Covid-19 is unfolding now where Fall Throughs and Under Contracts are present and future indicators.
Here are some key metrics for Aspen only: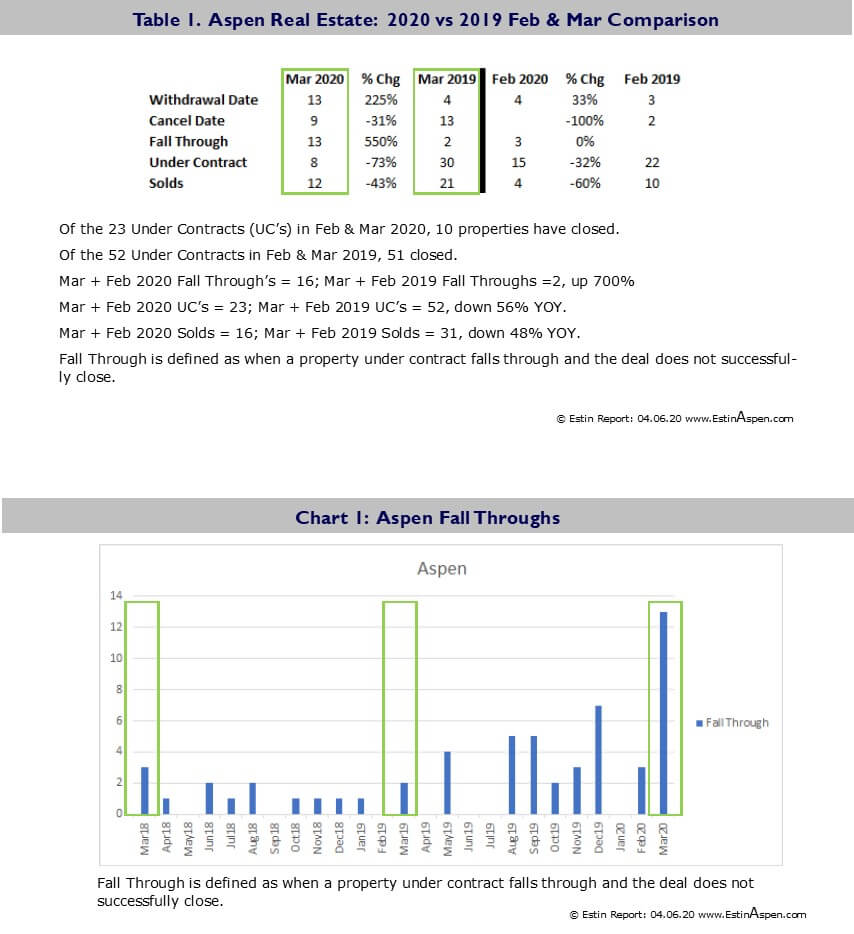 Mar + Feb 2020 Fall Through's* (16) vs Mar + Feb 2019 Fall Throughs (2), up 700%.
Mar + Feb 2020 UC's (23) vs Mar + Feb 2019 UC's (52) 52, down 56% YOY.
Mar + Feb 2020 Solds (16) vs Mar + Feb 2019 Solds (31), down 48% YOY.*Fall Through is defined as when a property under contract falls through and the deal does not successfully close.
Snowmass Village only key metrics: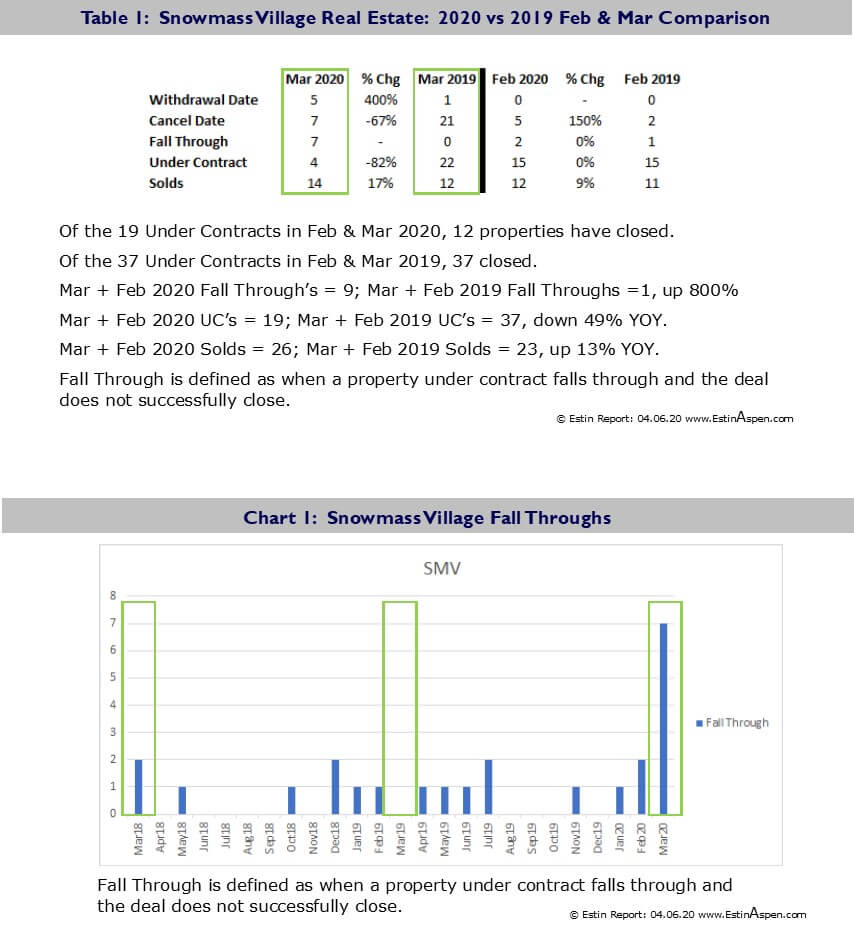 Mar + Feb 2020 Fall Through's (9); Mar + Feb 2019 Fall Throughs (1), up 800%
Mar + Feb 2020 UC's (19); Mar + Feb 2019 UC's = (37), down 49% YOY.
Mar + Feb 2020 Solds (26); Mar + Feb 2019 Solds = (23), up 13% YOY.*Fall Through is defined as when a property falls through and the deal does not successfully close.
_______
•As of March 23, 2020, anecdotally there were about 30 properties under contract in Aspen. Approximately  30-35% of those have terminated over the past two weeks as a direct result of the economy and coronavirus concerns. There have been (3) properties put under contract since March 9th. (I will be releasing the March 2020 Market Snapshot in the next few days and some adjustments to these figures may result.) Since then, there have been very limited property showings. Like everywhere else, Aspen is closed for non-essential business and the ski mountains have been shut down a month early. At the same time, there are buyers starting to look for "deals" which may only be fully realized with actual written offers put in front of sellers.
_______
•March 9, 2020: Things were fine until they weren't. Today, as this is written, we face great uncertainty with the coronavirus and financial market upheavals. Markets have changed dramatically almost overnight and the Aspen real estate market is obviously in this mix. We are in uncharted moment(s), and one's circumstances may or may not be uniquely different. Here are some lessons culled from the financial crisis a decade ago.
•As over 60-70% of Aspen real estate transactions are cash, historic record low mortgage rates may have little impact on sales. But with money so cheap, perhaps this will incentivise buyers to step up.
•Price reductions may offset a slowing market and smart, maybe prescient, motivated sellers may want to get ahead of global financial disruptions with pre-emptive price reductions or be prepared to wait out the crisis.
•Buyers may want to step up with aggressive offers. The only way to know the motivated level of a seller is to put an offer in front of them. All else is talk and speculation.
•One thing is sure: when uncertainty prevails, opportunities arise.
•But it'll take time for prices to come down, if at all. The market is still where its been. We don't have recent sales to indicate the market has changed yet.
•Sellers who had the fortitude to get ahead of the falling knife of the 2007-2009 financial crisis faced far less loss than those who clung on and followed the market down.
• Buyers who had the cash and fortitude to step up and make purchases in the heart of darkness when risk was greatest were well rewarded over time.
The March & YTD 2020 Market Snapshot has been posted in Current Reports Mon Apr 6th.
The new Estin Report: Aspen Snowmass Real Estate Market 2020 ws  is available for PDF download in the Current Reports section. The print version is available at Aspen racks at Galena St/Aspen Chamber Info Booth, Snowmass Village Center, Clarks Market, at Sothebys at 415 E Hyman on the mall and Sothebys at 300 S. Spring St opposite the Art Museum and at the ASE/Pitkin County Airport.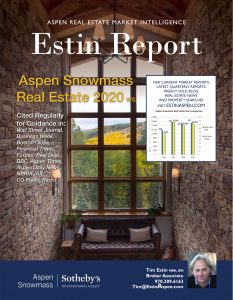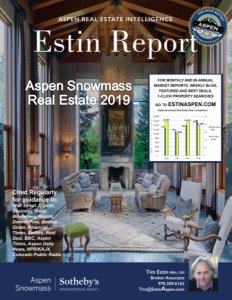 Quarterly and Annual Charts just posted: Estin Report Q1 2008 – Q4 2019: Aspen & Snowmass Historic Real Estate Market Performance Charts by Property Types and Dollar & Unit Sales  These charts are broken down by each market, Aspen and Snowmass, and by property types: single family homes, condos and vacant land and compare  sales  to prior years starting at 2008.  They answer the question "Where are we now compared to prior periods?" and indicate market direction with trend lines.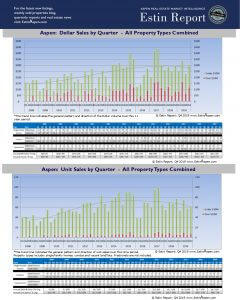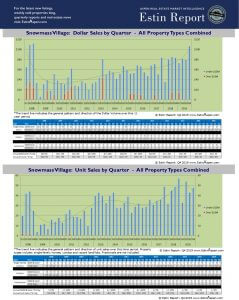 Aspen & Snowmass Village Historic Real Estate Sales Chart Series
Blog Post: Apr 19 – 26, 2020 Aspen CO real estate market activity, Week 17
Weekly Aspen and Snowmass Village, CO real estate sales activity appears below for sold and under contracts properties in the upper Roaring Fork Valley over $250,000 – for Aspen, Snowmass Village, Brush Cr Village, Woody Creek and Old Snowmass. Fractional sales are not included. Photos and written descriptions of sold properties are posted here as the MLS links below expire after 30 days. For earlier dates, see the Estin Report blog archives starting in 2008 at the bottom of the page. Or use SearchEstinAspen in the menu bar to search by topic, address, subdivision, complex, date, etc.  If it's about Aspen real estate, the information should be here.
Closed (2):  Most of these properties went under contract pre-March Covid-19 restrictions. MLS#s: 152356, 163853.  This link is valid until 5/26/2020.
Under Contract/Pending (6): MLS#s: 161240, 156697, 156823, 162791, 163704, 163747.  This link is valid until 5/26/2020.
Sold Properties Last Week:
MLS #152356 – West Aspen (off Cemetery Lane), 1610 Homestake Drive, Aspen, CO: Sold Price: $4,500,000/$1,069 sq ft; unfurnished. Sold Date: 04/23/2020. More details below photos.
MLS #152356 – West Aspen, 1610 Homestake Drive, Aspen, CO: Sold Price: $4,500,000/$1,069 sq ft; unfurnished. Sold Date: 04/23/2020. Aspen homes for sale. Ask Price: $4,495,000. (Original Price: $5,300,000 and 920 days on the market since 10/16/2017.) This is a 1988 built and 2006 remodeled, 4 bedroom/3 bath/1 half-bath, 4,208 sq ft single family home with 2 car garage on a 16,500 sq ft lot. Broker comments are "This extraordinary, modern, 4,200 sf single family home sits on a gorgeous, flat, 16,500 sf lot which uniquely provides direct, breathtaking views towards Independence Pass, Maroon Bells, Buttermilk and beyond. The house was designed to achieve views from each room while offering oversized windows throughout for light. Open living areas include a wood burning fireplace and ample space for entertaining. Cross-country ski out your front door in the winter, bike to town in the Summer, or simply sit back and enjoy the view with the sound of the stream running along the property." 2017 taxes: $10,931. City of Aspen RETT Transfer Tax of approx. 1.5% payable by buyer. Under Contract Date: 04/14/2020; Sold Date: 04/23/2020. (Photos and broker comments courtesy of Coldwell Banker Mason Morse-Aspen)
MLS #163853 – Mill Street Condo, Central Core, 415 Rio Grande Place 202, Aspen, CO: Sold Price: $430,000/$609 sq ft; unfurnished. Sold Date: 04/17/2020. More details below photos.
MLS #163853 – Mill Street Condo, Central Core, 415 Rio Grande Place 202, Aspen, CO: Sold Price: $430,000/$609 sq ft; unfurnished. Sold Date: 04/17/2020. Aspen condos for sale. Ask Price: $440,000. (Original Price: $440,000 and 494 days on the market since 09/13/2017.) This is a 2001 built, 1 bedroom/1 bath, 706 sq ft condo with 1 car garage. Broker comments, ""Jump on this opportunity to have your own space in downtown Aspen. Unbeatable location on Rio Grande Park (yes, you can have a dog). Lots of natural light in this second floor spacious one bedroom facing Red Mountain. Contemporary style with hardwood floors, remodeled kitchen, updated bath, in-unit washer and dryer and downtown garage parking. What's the catch at this price? This is a "deed restricted" property. Only a qualified full-time local worker is eligible to occupy the unit. Owner (buyer) must be a local business and the rental rate is capped. This is good for employer/business owner that wants to rent to an employee. OCCUPANT of the property must qualify under CATEGORY 3 with ASPEN PITKIN COUNTY HOUSING AUTHORITY (see category guidelines at their website)". City of Aspen RETT Transfer Tax of approx. 1.5% payable by buyer. Under Contract Date: 03/01/2020; Sold Date: 04/17/2020. (Photos and broker comments courtesy of Coldwell Banker Mason Morse-Aspen)
_______________