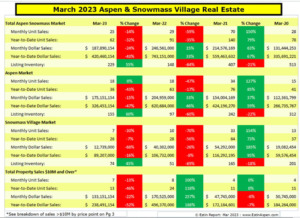 Bottom Line March 2023 (1st Quarter 2023) – Posted in Aspen Snowmass real estate market reports section
While inventory remains at record lows, in March YTD (through Mar 31), we saw a 60% increase of Aspen properties for sale over last year, 155 now vs 97 then; in Snowmass Village a 45% increase, 74 vs 51.  More properties are continuing to come onto the market – a sign that perhaps market dynamics may be slowly shifting in the buyer's direction. At least there is more negotiating. Last year, Feb and Mar 2022 was the trough for listing inventory, the lowest point ever. We are coming off that bottom … Continued in current reports.
 Click image to enlarge.