Follow@EstinAspen on twitter for blog posts and news on Aspen real estate. Click the twitter button directly below or the "conversation" button at the end of this post. At twitter, you'll have the option of signing up for a twitter account and/or to receive as RSS feed of this blog with no twitter sign-up. I am working on creating other feed and subscription options.
Market Brief from Last Week:
o Aspen sales: (3) Aspen core condos – 2 notable sales under $500K; (2) Aspen single family homes – one arguably a single family lot sale in Meadowood Subdivision; (1) downtown commercial – historic redevelopment play near the proposed Aspen Art Museum
o Snowmass Under Contract: (1) Snowmass Village, Melton Ranch 1972 built/2007 remodeled single family home went under contract as a rare bank "REO" sale. The ask price at $1.599M is more than 50% off its original ask price of $3.5M in11/2008.
Last Week's Aspen and Snowmass Sales and Under Contract Activity: Last week's real estate sales activity appears below for the upper Roaring Fork Valley for all property types over $250,000 excluding fractionals in Aspen, Snowmass Village, Woody Creek and Old Snowmass (although Residences at Little Nell and Dancing Bear are included due to their higher fractional price points). Because the MLS link(s) to photos and property details expire after 30 days, photos and descriptions of the closed properties are posted to preserve an archive of sold market activity.

For a Spreadsheet Summary of the past week's sales and under contract activity, see The Estin Report: Aspen Snowmass Weekly Sales Statistics Sept. 26 – Oct. 3, 2010
Closed (6): 117542, 109536, 116989, 118336, 117677, 112318 This link is valid until 11/02/2010. For map/ additional photos/enhanced detail pdf view of these closures, click here.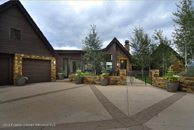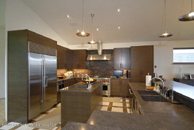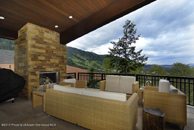 MLS 117542 – single family home, 263 McSkimming Rd, Aspen, CO: Sold Price: $7,400,000 /$1,008 sq ft; Ask Price: $7,995,000/$1,090 sq ft. Original Price and days on market. This is beautiful new contemporary 5 bdrm/6 bath/2 half bath, 7,337 sq ft south west facing home overlooking Aspen.The list broker writes, "Priced to sell, this gorgeous, turn-key home is a favorite of brokers and buyers alike. Dramatic views from Aspen Mountain to Mt. Sopris. Beautiful interior design by Larry Laslo and Denise Cohen. This air-conditioned home features 4-bedrooms and an office that could easily be a 5th bedroom. Home theater, elevator, 2 outdoor decks with gas fireplaces, pool table and 3 entertaining areas. Priced for a summer sale.See www.AspenAbsolutePerfection.com." 2010 Taxes: $22,015; HOA Fees: none. City of Aspen RETT Transfer tax 1.5% applies to buyer. (Photos and description courtesy of Morris & Fyrwald/ Sotheby's International RE)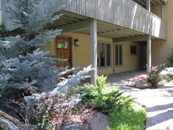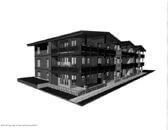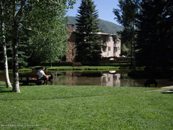 MLS 117677 – Little Nell Condo #9, 611 S. West End St, Aspen, CO: Sold Price: $1,025,000/$1,019 sq ft; Ask Price: $1,200,000/$1,194 sq ft. Original price and days on the marker. This is a 1,0005 sq ft, 3 bdrm/2bath, 1968 built/2006 remodeled condo 2 blocks from Aspen Mtn Gondola and bordering a charming small Glory Hole Park with running streams and 2 ponds.Lits broker comments are, "What is green on 3 sides and has 3 bedrooms? Little Nell 9, Remodel in in progress. Will lease long term inc uts for 4 k per month. Located on Glory Hole Park and pond, just one block to Aspen Mountain, Windows and views on three sides. 2 sides a park and one side a summer stream, quiet residential neighborhood, ground level with large deck, walk-out convenience, end unit, privacy,in-unit laundry, walk to everything in Additional FAR is possible for each unit. Lease option possible 1 year, 3% option up front to apply to purchase price. asbsetos, alu wiring, expansion up to HOA." 2009 Taxes: $3,342 Yr; HOA Dues: $1,836 qtr. (Photos and description courtesy of Morris & Fyrwald, Sotheby's Intl Realty)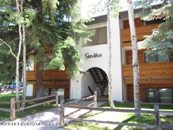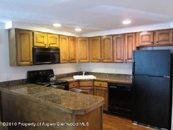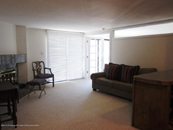 MLS 116989 – Gavilon Condo, 935 E. Hopkins #8, Aspen, CO: Sold Price: $480,000/$850 sq ft; Ask Price: $585,000/$1,035 sq ft. This is 1 bdrm/1 bath, 565 sq ft condo with Aspen Mtn views and assigned parking. Built in 1972/remodeled in 2010, estate sale. This unit is in a relatively small approx 8 unit complex 4 blocks east of Aspen Core on a quiet dead-end street near the RF River. Very pleasant in-town location. 2009 Taxes: $1,782 Yr; HOA Dues: $ 1,011 Qtr. City of Aspen RETT Transfer Tax 1.5% applies to buyer. (Photos courtesy of Stirling Homes).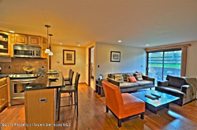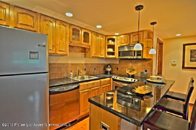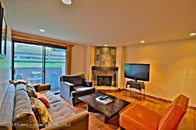 MLS 109536 – Gavilon Condos, 935 E Hopkins #3, Aspen, CO: Sold Price: $450,000/$810 sq ft; Ask Price: $475,000/$856 sq ft. (Original price: $ 925,000/$1,666 sq ft and 600 days on the market) This is another 1 bdrm/1 bath 555 sq ft Gavilon unit that sold last week – the big difference with the one that sold above? Also, not to be underrated, the unit is partially below grade, but it was beautifully remodeled. Someone got a great deal for newly remodeled small unit from a frustrated buyer whose timing unfortunately seemed all wrong. In the past two years, I know of at least 2 other offers turned down in $600's and $700's by the seller hopeful for more. This is a hard lesson to sellers and prime example of the consequences of following the market down. Sadly, there are numerous stories like this. Broker description, "State of the art Pied-a-Terre. Cozy, garden level, mountain contemporary. Perfect for full time or second time owner." 2009 Taxes: $1,742 Yr; HOA Dues: $937 Qtr. City of Aspen RETT Transfer Tax 1.5% applies to buyer.(Photos and description courtesy of Carol Dopkin Real Estate).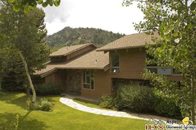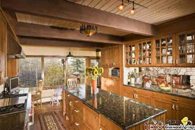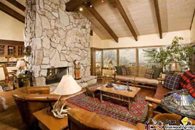 MLS 112318 – single family home/teardown lot, 205 Glen Eagles Dr, Aspen, CO: Sold Price: $3,100,000/$760 sq ft; Ask Price: $3,350,000/$821 sq ft. (Original Price $5,200,000 and 975 days on the market since Oct 2007.) This is a older 1979 built, 5 bdrm/3 bath, 4,081 sq ft home in Meadowood Subdivision between Aspen High School and Aspen Highlands.Most of the value in this sale was for the lot. The listing broker remarks, "The most idyllic setting on Glen Eagles Drive. Gracing a large, landscaped lot offering privacy and views, this remodeled five bedroom and three bathroom home blends mountain style with eminently livable floor plan on two levels all above grade. Terrific location close to skiing, the ARC, and schools.". 2008 Taxes: $7,858 Yr; HOA Dues: none. (Photos and description courtesy of CB The Aspen Brokers)

NO PHOTO – DOWNTOWN COMMERCIAL REDEVELOPMENT LOT
MLS 118336 – 205 S Spring Aspen, CO: Sold Price: $2,830,000/$2,425 sq ft. This is a downtown commercial lot/redevelopment sale. The existing structure is a 1,167 sq ft, 2bdrm/1.5 bath 1881 built/1965 remodeled home in downtown Aspen located one block north of the existing Weinerstube Bldg where the proposed Aspen Art Museum is planned. It would appear that the redevelopment plan for this parcel would be similar to Conners Cabin on E. Hopkins behind City Hall. 2009 Taxes: $5,778 sq ft. City of Aspen RETT 1.5% Transfer tax to buyer applies…
A commercial building directly across the street from this listing sold the week of May 16th. See Estin Report May 16th blog post: MLS #103689 – 632 E Hopkins 119 South Spring Street, Downtown Commercial Bldg., Aspen, CO: Sold Price: $ 3,100,000/ $ 579 sq ft; Ask Price: $ 3,900,000. (Original Price: $ 6,500,000 and 796 days on the market – typo corrected 5/25/10). This commercial property, 5,348 sq ft, was built in 1976. The listing broker says "Great downtown commercial building. Corner location in the C-1 Zone. Stand alone building with 2 current tenants in place. Double street front in both Spring and Hopkins with dedicated parking for tenants.Total square footage includes 760 basement storage. Total Leasable square footage is 4,588." (Description courtesy of Mason and Morse, Aspen)

Under Contract / Pending (4): 114030, 106136, 111754, 117459 This link is valid until 11/02/2010. Photos and description of Under contract listings are not posted unless special circumstances dictate.

Tim Estin is an active Aspen Snowmass real estate broker and he welcomes your inquiries, comments and business. Email him or call 970.920.7387. Subscribe to The Estin Report and blog on twitter @EstinAspen or click "Join the conversation" below:

new TWTR.Widget({ version: 2, type: 'profile', rpp: 4, interval: 6000, width: 250, height: 300, theme: { shell: { background: '#333333', color: '#ffffff' }, tweets: { background: '#000000', color: '#ffffff', links: '#4aed05' } }, features: { scrollbar: false, loop: false, live: false, hashtags: true, timestamp: true, avatars: false, behavior: 'all' } }).render().setUser('EstinAspen').start();
Disclaimer: The statements made in The Estin Report and on Tim Estin's blog represent the opinions of the author and should not be relied upon exclusively to make real estate decisions. A potential buyer and/or seller is advised to make an independent investigation of the market and of each property before deciding to purchase or to sell. To the extent the statements made herein report facts or conclusions taken from other sources, the information is believed by the author to be reliable, however, the author makes no guarantee concerning the accuracy of the facts and conclusions reported herein. Information concerning particular real estate opportunities can be requested from Tim Estin at 970.920.7387 or by email.. The Estin Report is copyrighted 2010 and all rights reserved.. Use is permitted subject to the following attribution: "The Estin Report: State of the Aspen Market, By Tim Estin, mba, gri, www.EstinAspen.com"

____________________________________________________________