May 17 – 24, 2020 Estin Report: Last Week's Aspen CO Homes for Sale and Snowmass Real Estate Sales & Stats: Closed (2) + Under Contract / Pending (8).  [To view the new blog post, you may have to "Clear your Browser Settings". Go to: Chrome browser/more tools/clear browsing data.]  For this past week's sales activity, go mid-way down the page.
The Estin Report Aspen Snowmass real estate April 2020 market snapshot was posted Tue May 6th in Current Reports. Specific April 2020 Covid 19 Effect Aspen and Covid 19 Effect Snowmass Village addendum charts and tables are downloadable there as well.
05/25/20 Bottom Line: Aspen will be opening up restaurants and lodging on May 27th at 50% capacity. Bars, music venues still closed. It's a start…
05/18/20 Bottom Line: The conversation that is taking place between buyer and sellers:
– Buyers are talking about the new world, new data…of which there really isn't. Prices have not changed at present. If they are making offers, they've been 20-40%. If the ask price is 10M, the offer is 6M – the higher the ask price, the greater the discount expectation. Anecdotally, maybe 50-60% of buyers want a 20M property for 12M. Sellers are countering maybe at 5% off ask. A big divide. On average, the typical discount to ask has been 3-8% in the past year (2019) depending on the property type, location and seller's motivation.
-Sellers are saying and thinking "Why should I lower my price if the comparable prices have not changed?"
-Reason why one might consider lowering their price…?
-Uncertainty is in the air. The financial markets are off 15-25% depending on when one looks at the indices. Yes, the country is opening back up, but what will it look like in 2, 4, 8 weeks, etc.  Will things be better or worse? What would Covid-19 Round II look like.
-Uncertainty leads to paralysis…buyers need a reason to step into the fray. Price usually accomplishes that.
-The few buyers who ARE stepping up to the plate are saying they are one of very few making offers…for what is a "want" item/less of a need item…"I don't want to be the statistic that buys a 10M listing at 9M. I want to buy at what would be considered below market. 5-10% below ask doesn't cut it."
-Sellers say they are not desperate:  "Summer will be busy;  there will be a demand for big urban buyers who don't want to deal anymore urban density and safety/health concerns…"Enough",  some prospective buyers are saying. And sellers say, "People who can afford an Aspen lifestyle are the people who will make our market again…".  I've also heard anecdotally that as a result of Covid 19 stay at home, many 2nd home and vacation home owners express such grateful relief to have their retreats, an alternative place to go to other than their primary home. And that the leading real estate beneficiaries may be the western US states – in particular CO, UT, AZ.
Let's look at what happened in the last recession: 2008: Aspen, especially the Core, picked up more quickly than other areas. Snowmass Village (SMV) Properties that sold in 1-2 Yr period of 2010-2011 closed at 10-15% off list.  Then we were in a 2-4 yr period in which values went down another 15-25%. Prices dropped in aggregate 25-40%, sometimes more.
-The point to buyers: you are not going to get 20-30% off at this time, but if you think along the lines of 10-15% off ask, you may be able to get a really good deal.
-Buyers want to be 1st one in at a new price representing a substantial discount…No one knows what is going to happen…no winter season, 2nd round of Covid, no gondola opening this winter?…Brokers are trying to get buyers comfortable with an entry point offer.
-Sellers need to understand the conversation that is going on which is beyond simply looking at the most recent comps. I might ask a seller where they would start with an offer if they were the buyer…"You can't blame a buyer for being cautious and wanting to buy at a level that accommodates their perceived level of risk…".
For sellers:
-Upon receiving an offer: This is or may be a "bird in hand " offer…there could be a couple of years given the uncertainty…who knows? It is always a good idea to counter…keep the conversation going.
-A number of brokers estimate that 20-25% of current inventory for sale is overpriced…do you want continue to be overpriced given this present uncertainty? In the 2008 crisis, sellers who held on to unrealistically priced properties, followed the market down for 2-4 years and suffered the
___________________
The new Estin Report: Aspen Snowmass Real Estate Market 2020 ws  is available for PDF download in the Current Reports section. The print version is available at Aspen racks at Galena St/Aspen Chamber Info Booth, Snowmass Village Center, Clarks Market, at Sothebys at 415 E Hyman on the mall and Sothebys at 300 S. Spring St opposite the Art Museum and at the ASE/Pitkin County Airport.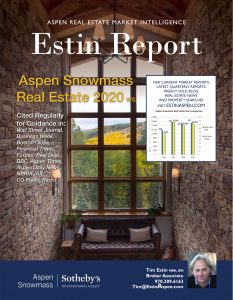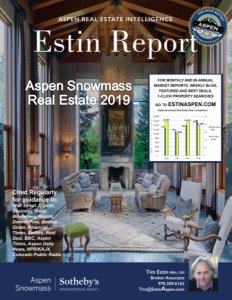 Quarterly and Annual Charts just posted: Estin Report Q1 2008 – Q4 2019: Aspen & Snowmass Historic Real Estate Market Performance Charts by Property Types and Dollar & Unit Sales  These charts are broken down by each market, Aspen and Snowmass, and by property types: single family homes, condos and vacant land and compare  sales  to prior years starting at 2008.  They answer the question "Where are we now compared to prior periods?" and indicate market direction with trend lines.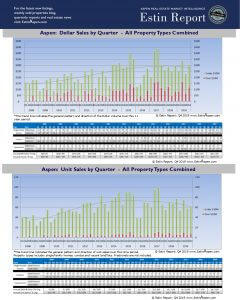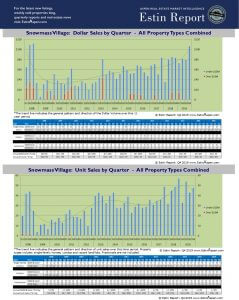 Aspen & Snowmass Village Historic Real Estate Sales Chart Series
Blog Post: May 17 – 24, 2020 Aspen CO real estate market activity, Week 21
Weekly Aspen and Snowmass Village, CO real estate sales activity appears below for sold and under contracts properties in the upper Roaring Fork Valley over $250,000 – for Aspen, Snowmass Village, Brush Cr Village, Woody Creek and Old Snowmass. Fractional sales are not included. Photos and written descriptions of sold properties are posted here as the MLS links below expire after 30 days. For earlier dates, see the Estin Report blog archives starting in 2008 at the bottom of the page. Or use SearchEstinAspen in the menu bar to search by topic, address, subdivision, complex, date, etc.  If it's about Aspen real estate, the information should be here.
Closed (2):  Most of these properties went under contract pre-March Covid-19 restrictions. MLS#s: 159462, 163168 .  This link is valid until 6/23/2020.
Under Contract/Pending (8): MLS#s: 155947, 160005, 160544, 160548, 163579, 163613, 163662, 164201.  This link is valid until 6/23/2020.
Sold Properties Last Week:
MLS #159462 – 2556 Lower River Road, Snowmass, CO: Sold Price: $4,825,000/$971 sq ft; unfurnished. Sold Date: 05/20/2020. More details below photos.
MLS #159462 – 2556 Lower River Road, Snowmass, CO: Sold Price: $4,825,000/$971 sq ft; unfurnished. Sold Date: 05/20/2020. Old Snowmass homes for sale. Ask Price: $4,995,000. (Original Price: $4,995,000 and 357 days on the market since 05/29/2019. Seller paid $2.75M/$518 SF on Mar 12, 2014. The original list price was $7.95M on 6/17/08) This is a 2008 built, 4 bedroom/5 bath/1 half-bath, 4,968 sq ft single family home with 3 car garage on a 19.17 acres lot. Tim's notes: This is a beautiful newer contemporary home situated on the river with Hwy 82 – Snowmass Canyon – directly across on the opposite bank. Significant highway impact hence the lower sold price per sq ft. Broker comments are "The presence of the river and the mountains are pervasive from this contemporary "riverfront masterpiece" designed by David Johnston Architects sitting on the bank of the Roaring Fork River on 19+ acres in Snowmass Canyon. Open spaces and walls of glass blur indoor from outdoor living. The stone entry extends through the house to the back patio connecting the home to the backyard and the river. Spanish cedar, limestone and zinc adorn the exterior, while spacious, light and airy living spaces are accented by cherry wood ceiling panels, bamboo & stained concrete flooring, and a limestone fireplace. A 100+ bottle glass wine display illuminates the dining room. Overlooking the river, the private main level master suite features curved glu-lam beams with inlayed bamboo, a gas fireplace, spa bathroom and large walk-in closet. Interior designer Elizabeth Holway said, "You can sit in the tub and feel like you're sitting next to the water". A "functional sculpture" single-stringer steel staircase leads to the upper level guest master suite, two en suite guest bedrooms, and a loft office. Five gas fireplaces warm the home with automatic shades and control lighting throughout. Radiant heat and central A/C ensure the ideal temperature. A 3-car garage with tempered glass doors provides plenty of storage. The lower level theater room with a full bath is the perfect place to watch your favorite movies. Dine al fresco on the covered back patio with built-in BBQ and fireplace with Triangle Peak and Snowmass Canyon's red rock landscape as your backdrop. Close to Aspen, Snowmass and Basalt, this is a biking and fly-fishing retreat with 425+ feet of Roaring Fork River frontage and direct access to the Rio Grande Trail. This magnificent home and setting so close to the river cannot be recreated today." 2019 taxes: $17,568. Under Contract Date: 09/09/2019; Sold Date: 05/20/2020. (Photos and broker comments courtesy of Aspen Snowmass Sotheby's International Realty-Hyman Mall)
MLS #163168 – Fasching Haus Condominiums, Central Core, 718 S Mill Street 4, Aspen, CO: Sold Price: $2,250,000/$1,841 sq ft; furnished. Sold Date: 05/22/2020. More details below photos.
MLS #163168 – Fasching Haus, Central Core, 718 S Mill Street 4, Aspen, CO: Sold Price: $2,250,000/$1,841 sq ft; furnished. Sold Date: 05/22/2020. Aspen condos for sale. Ask Price: $2,590,000. (Original Price: $2,590,000 and 97 days on the market since 02/15/2020.) This is a 1965 built and 2010 remodeled, 3 bedroom/3 bath, 1,222 sq ft condo. Broker comments are "Convenient turn-key condo puts the best of Aspen just outside your door. Only a few short blocks to the gondola. This spacious top floor two-level unit offers 3 bedrooms and 3 en-suite baths with direct access to the pool and hot tub. Tasteful remodel added additional square footage, chef's kitchen, A/C units throughout, and a cozy stacked-stone gas fireplace. Convenient off-street parking, too. This well-established complex offers on-site management, ensuring seamless check-in and top-notch service for you and your rental guests. Proven rental producer, or simply lock and leave." 2019 taxes: $4,903; HOA Dues: $14,405. City of Aspen RETT Transfer Tax of approx. 1.5% payable by buyer. Under Contract Date: 04/16/2020; Sold Date: 05/22/2020. (Photos and broker comments courtesy of Aspen Snowmass Sotheby's International Realty-Hyman Mall)
_______________