May 10 – 17, 2020 Estin Report: Last Week's Aspen CO Homes for Sale and Snowmass Real Estate Sales & Stats: Closed (1) + Under Contract / Pending (6).  [To view the new blog post, you may have to "Clear your Browser Settings". Go to: Chrome browser/more tools/clear browsing data.]  For this past week's sales activity, go mid-way down the page.
The Estin Report Aspen Snowmass real estate April 2020 market snapshot was posted Tue May 6th in Current Reports. Specific April 2020 Covid 19 Effect Aspen and Covid 19 Effect Snowmass Village addendum charts and tables are downloadable there as well.
05/18/20 Bottom Line: The conversation that is taking place between buyer and sellers:
– Buyers are talking about the new world, new data…of which there really isn't. Prices have not changed at present. If they are making offers, they've been 20-40%. If the ask price is 10M, the offer is 6M – the higher the ask price, the greater the discount expectation. Anecdotally, maybe 50-60% of buyers want a 20M property for 12M. Sellers are countering maybe at 5% off ask. A big divide. On average, the typical discount to ask has been 3-8% in the past year (2019) depending on the property type, location and seller's motivation.
-Sellers are saying and thinking "Why should I lower my price if the comparable prices have not changed?"
-Reason why one might consider lowering their price…?
-Uncertainty is in the air. The financial markets are off 15-25% depending on when one looks at the indices. Yes, the country is opening back up, but what will it look like in 2, 4, 8 weeks, etc.  Will things be better or worse? What would Covid-19 Round II look like.
-Uncertainty leads to paralysis…buyers need a reason to step into the fray. Price usually accomplishes that.
-The few buyers who ARE stepping up to the plate are saying they are one of very few making offers…for what is a "want" item/less of a need item…"I don't want to be the statistic that buys a 10M listing at 9M. I want to buy at what would be considered below market. 5-10% below ask doesn't cut it."
-Sellers say they are not desperate:  "Summer will be busy;  there will be a demand for big urban buyers who don't want to deal anymore urban density and safety/health concerns…"Enough",  some prospective buyers are saying. And sellers say, "People who can afford an Aspen lifestyle are the people who will make our market again…".  I've also heard anecdotally that as a result of Covid 19 stay at home, many 2nd home and vacation home owners express such grateful relief to have their retreats, an alternative place to go to other than their primary home. And that the leading real estate beneficiaries may be the western US states – in particular CO, UT, AZ.
Let's look at what happened in the last recession: 2008: Aspen, especially the Core, picked up more quickly than other areas. Snowmass Village (SMV) Properties that sold in 1-2 Yr period of 2010-2011 closed at 10-15% off list.  Then we were in a 2-4 yr period in which values went down another 15-25%. Prices dropped in aggregate 25-40%, sometimes more.
-The point to buyers: you are not going to get 20-30% off at this time, but if you think along the lines of 10-15% off ask, you may be able to get a really good deal.
-Buyers want to be 1st one in at a new price representing a substantial discount…No one knows what is going to happen…no winter season, 2nd round of Covid, no gondola opening this winter?…Brokers are trying to get buyers comfortable with an entry point offer.
-Sellers need to understand the conversation that is going on which is beyond simply looking at the most recent comps. I might ask a seller where they would start with an offer if they were the buyer…"You can't blame a buyer for being cautious and wanting to buy at a level that accommodates their perceived level of risk…".
For sellers:
-Upon receiving an offer: This is or may be a "bird in hand " offer…there could be a couple of years given the uncertainty…who knows? It is always a good idea to counter…keep the conversation going.
-A number of brokers estimate that 20-25% of current inventory for sale is overpriced…do you want continue to be overpriced given this present uncertainty? In the 2008 crisis, sellers who held on to unrealistically priced properties, followed the market down for 2-4 years and suffered the worst: longest time to sell at the lowest price.
____________
The new Estin Report: Aspen Snowmass Real Estate Market 2020 ws  is available for PDF download in the Current Reports section. The print version is available at Aspen racks at Galena St/Aspen Chamber Info Booth, Snowmass Village Center, Clarks Market, at Sothebys at 415 E Hyman on the mall and Sothebys at 300 S. Spring St opposite the Art Museum and at the ASE/Pitkin County Airport.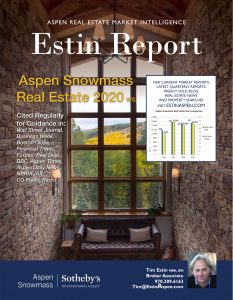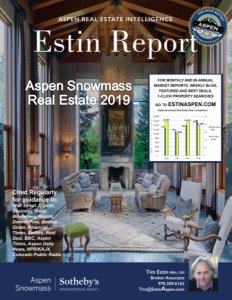 Quarterly and Annual Charts just posted: Estin Report Q1 2008 – Q4 2019: Aspen & Snowmass Historic Real Estate Market Performance Charts by Property Types and Dollar & Unit Sales  These charts are broken down by each market, Aspen and Snowmass, and by property types: single family homes, condos and vacant land and compare  sales  to prior years starting at 2008.  They answer the question "Where are we now compared to prior periods?" and indicate market direction with trend lines.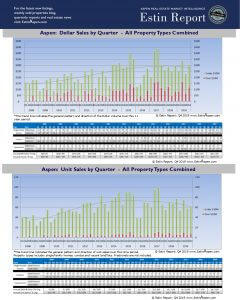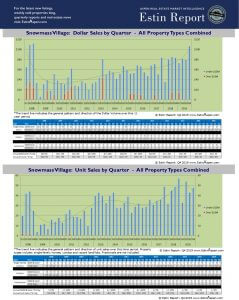 Aspen & Snowmass Village Historic Real Estate Sales Chart Series
Blog Post: May 10 – 17, 2020 Aspen CO real estate market activity, Week 20
Weekly Aspen and Snowmass Village, CO real estate sales activity appears below for sold and under contracts properties in the upper Roaring Fork Valley over $250,000 – for Aspen, Snowmass Village, Brush Cr Village, Woody Creek and Old Snowmass. Fractional sales are not included. Photos and written descriptions of sold properties are posted here as the MLS links below expire after 30 days. For earlier dates, see the Estin Report blog archives starting in 2008 at the bottom of the page. Or use SearchEstinAspen in the menu bar to search by topic, address, subdivision, complex, date, etc.  If it's about Aspen real estate, the information should be here.
Closed (1):  Most of these properties went under contract pre-March Covid-19 restrictions. MLS#s: 14689.  This link is valid until 6/16/2020.
Under Contract/Pending (6): MLS#s: 161798, 161991, 162768, 163135, 163400, 163704.  This link is valid until 6/16/2020.
Sold Properties Last Week:
MLS #146896 – Lazy O Ranch, Tbd Lazy O Road, Snowmass, CO: Sold Price: $450,000. Sold Date: 05/14/2020. More details below photos.
MLS #146896 – Lazy O Ranch, Tbd Lazy O Road, Snowmass, CO: Sold Price: $450,000. Sold Date: 05/14/2020. Old Snowmass lots for sale. Ask Price: $549,000. (Original Price: $685,000 and 1,762 days on the market since 04/15/2015.) This is a 2.82 acres single family vacant lot. Broker comments are "Lazy O Ranch in Old Snowmass consists of 1500 acres and is a real working ranch that requires only play and R&R from you. Stocked trout ponds, horse boarding and/or rentals, tennis, trails, etc. all within 15 minutes of Aspen. A ranch manager lives onsite to provide security and a carefree living environment for residents. Lazy O is bordered by Windstar, an 1100 acre land conservancy managed by the Rocky Mountain Institute, as well as thousands of acres of BLM lands." 2015 taxes: $17,868; HOA Dues: $16,000 pr Yr. Under Contract Date: 02/14/2020; Sold Date: 05/14/2020. (Photos and broker comments courtesy of Engel & Volkers)
_______________