Bottom Line Aug 2023 YTD
In Aug 2023, for sales over $10M in Aspen: there were 12 sales (+33%) over $10M vs 9 (+80%) in Aug 2022 and 5 (0%) in Aug 21 and Aug 2020
The Aug monthly dollar sales over $10M was +84% over same time last year, $281M vs $153M last Aug '22.
What's going on?
    Aspen is seeing a surge of ultra high-end, very expensive sales in the past 4-6 weeks.
    The market, in general, is making up for a lower number of transactions earlier in the year when buyers had pulled back due to economic uncertainty, Ukraine, high inflation, rising interest rates, record low inventory of properties for sale that buyers found discouraging.
    Since then, the summer selling season inventory of properties has increased – although incrementally and still at historic lows, the economy appears to have settled and is more surely improving, clients are feeling more comfortable with the state of things and no longer willing to postpone an Aspen purchase waiting for that "big correction" they thought would happen a year ago.
Click images to enlarge.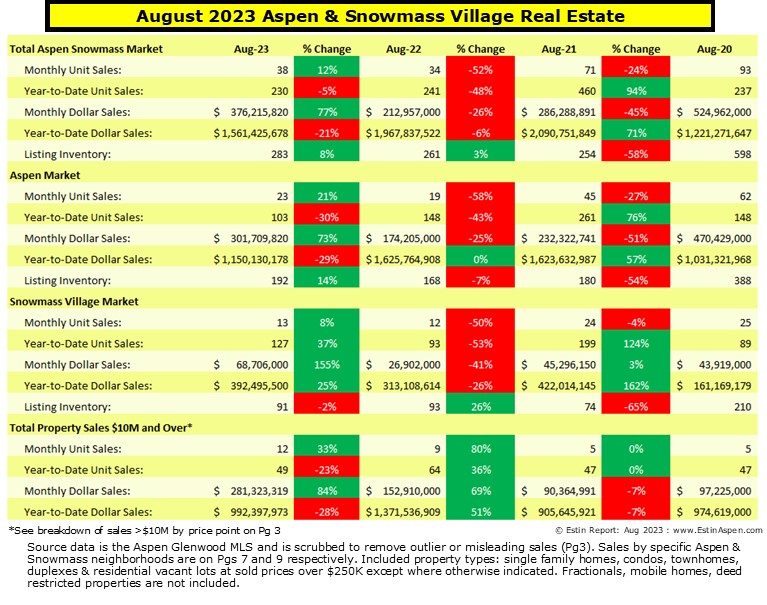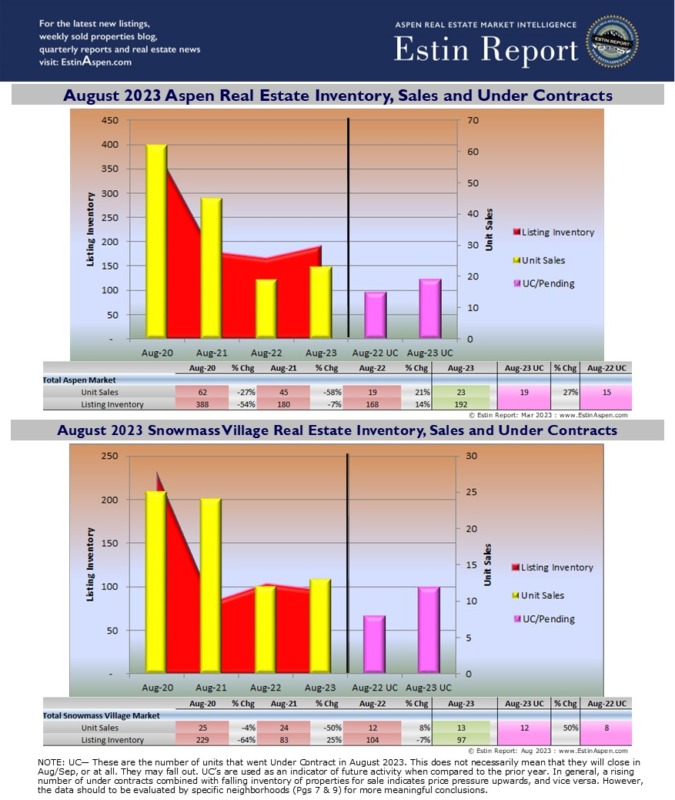 Click images to enlarge.

ASPEN AND SNOWMASS VILLAGE: AVERAGE AND MEDIAN PRICES AUG 2023
ASPEN AND SNOWMASS VILLAGE: CONDO SALES BY BEDROOMS
(SEE REPORT FOR SINGLE FAMILY HOME DATA)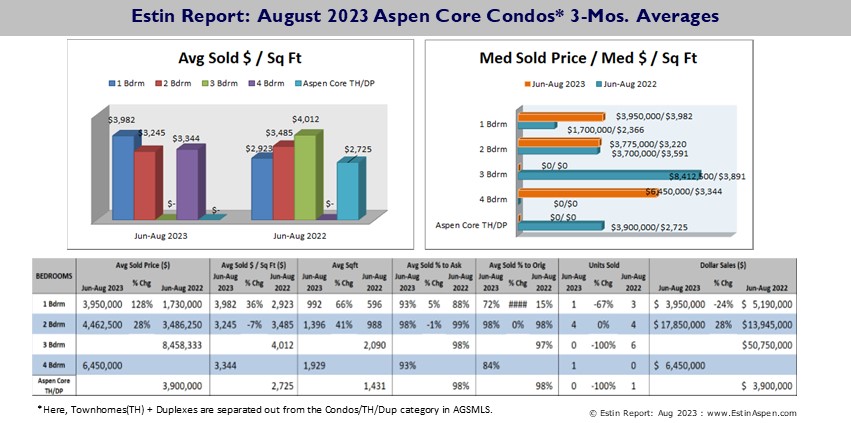 Click images to enlarge.
Links to Aug 23 Aspen and Snowmass Village Sold Property Photos and Details:
Aspen Aug 23 Closed Properties.   
Snowmass Village Jul 23 Closed Properties. 
Released Sep 10, 23 v1.5
The Estin Report posts a 10-page monthly Aspen real estate market report "Snapshot" on or near the 1st Monday of each month.  The Snapshot presents a "bottom line" summary and raw data of the subject month and YTD performance for residential real estate sales in Aspen and Snowmass today. It includes on and off-market sales and scrubbed data to remove "outliers"  to present the most accurate and relevant data available. There are (3) sections: 1) Total combined Aspen Snowmass Village Market; 2) The Aspen Market; 3) The Snowmass Village Market.  It features charts, tables and 30-day live links to photos and details of sold properties and compares the subject month to the same time in prior years. The Monthly Snapshot is the only Aspen and Snowmass property sales information widely published in a timely and consistent manner early each month. This information is deemed reliable but cannot be guaranteed.
The Estin Report© is copyrighted 2023 and all rights reserved.
Use is permitted subject to the following attribution with an active link to the source: The "Estin Report on the Aspen real estate market."