May 24 – 31, 2020 Estin Report: Last Week's Aspen CO Homes for Sale and Snowmass Real Estate Sales & Stats: Closed (2) + Under Contract / Pending (8).  [To view the new blog post, you may have to "Clear your Browser Settings". Go to: Chrome browser/more tools/clear browsing data.]  For this past week's sales activity, go mid-way down the page.
The Estin Report Aspen Snowmass real estate April 2020 market snapshot was posted Tue May 6th in Current Reports. Specific April 2020 Covid 19 Effect Aspen and Covid 19 Effect Snowmass Village addendum charts and tables are downloadable there as well.
06/01/20 Bottom Line: ramblings from the street.
Offers are coming in…but in general, they are low across the board – in Aspen and Snowmass Village (SMV). In mid valley and down valley its completely different: life there goes on and people need housing. Up-valley in Aspen, properties are for the most part discretionary purchases – 2nd homes, vacation homes. Here it's a want, not a need.
Yes. There are some listings that are especially motivated. Buyers should make an offer, start the conversation. My advice generally is: "I don't know how motivated the seller is. But if you're going to make an offer, make it legit, put it in writing. At least try to get the seller to engage. Then, we'll get real information back – or not. Things happen doing this more than one would think."  And if you hear, "They've already picked out a replacement property", yes, it implies motivation.
Buyers are pulling down prices on some specific properties. There are a few properties over >$10M that have recently gone under contract at significant discounts. These will be reference points in 4-8 weeks.  The way offers are coming in now, it's hard to believe there won't be sellers who don't lower their price and we will begin to see new lower metrics. Savvy sellers will get ahead of this. Now.
But many sellers are feeling optimistic. There are more people looking now than in a usual May.
It would seem most logical to look at developers for seller motivation rather than a residential owner/seller who's living and using the house. In the financial crisis, the properties that sold in the first 2-3 years were developer inventory. These guys have to sell – it's business, not personal. "Get in, get out." is their mantra.
The 3-auction Aspen seller at the end of June is a developer and apparently has no debt. Why then are these properties at auction? It's a novel idea, smart and generating a lot of buzz, great marketing. Apparently there have already been several low offers but nothing accepted so far.
The toughest part at present is confusion between buyer and seller as to where the market is – there is the current market now versus the market pre-Covid lockdown. Buyer's concern is that they will overpay in a very uncertain market.
In 2008-2011, there was not an efficient market outside the Core. Sellers that sold in the beginning of the crisis, sold at 10-15% discount versus sellers who finally lowered their price 2-3 years later and suffered far greater loss.
In this uncertainty, we have not seen a lot of new listings or properties going under contracts.
However…on the other hand, maybe there will be little discounting Covid 19 related because of urban dwellers coming here full time and sellers taking their property off market in order to spend more time here full-time. The stay at home lockdown has changed people's perceptions of where they can live and work and where they want to now live. Aspen offers a quality of life unmatched. Period.
Best deal areas: Snowmass Village, East Aspen, Starwood, Aspen Highlands.
_______________
The new Estin Report: Aspen Snowmass Real Estate Market 2020 ws  is available for PDF download in the Current Reports section. The print version is available at Aspen racks at Galena St/Aspen Chamber Info Booth, Snowmass Village Center, Clarks Market, at Sothebys at 415 E Hyman on the mall and Sothebys at 300 S. Spring St opposite the Art Museum and at the ASE/Pitkin County Airport.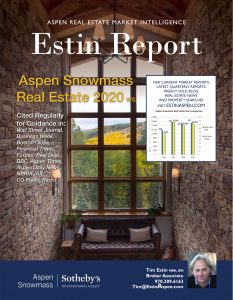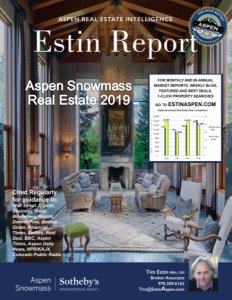 Quarterly and Annual Charts just posted: Estin Report Q1 2008 – Q4 2019: Aspen & Snowmass Historic Real Estate Market Performance Charts by Property Types and Dollar & Unit Sales  These charts are broken down by each market, Aspen and Snowmass, and by property types: single family homes, condos and vacant land and compare  sales  to prior years starting at 2008.  They answer the question "Where are we now compared to prior periods?" and indicate market direction with trend lines.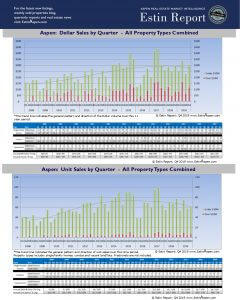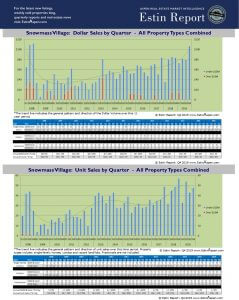 Aspen & Snowmass Village Historic Real Estate Sales Chart Series
Blog Post: May 24 – 31, 2020 Aspen CO real estate market activity, Week 22
Weekly Aspen and Snowmass Village, CO real estate sales activity appears below for sold and under contracts properties in the upper Roaring Fork Valley over $250,000 – for Aspen, Snowmass Village, Brush Cr Village, Woody Creek and Old Snowmass. Fractional sales are not included. Photos and written descriptions of sold properties are posted here as the MLS links below expire after 30 days. For earlier dates, see the Estin Report blog archives starting in 2008 at the bottom of the page. Or use SearchEstinAspen in the menu bar to search by topic, address, subdivision, complex, date, etc.  If it's about Aspen real estate, the information should be here.
Closed (2):  These properties went under contract end of April and early May.  MLS#s: 163404, 155407.  This link is valid until 6/30/2020.
Under Contract/Pending (8): MLS#s: 151861, 158909, 160633, 161693, 162587, 163199, 164194, 164312.  This link is valid until 6/30/2020.
Sold Properties Last Week:
MLS #155407 – Spruce Street, Smuggler, 40 Spruce Court, Aspen, CO: Sold Price: $5,500,000. Sold Date: 05/26/2020. More details below photos.
MLS #155407 – Spruce Street, Smuggler, 40 Spruce Court, Aspen, CO: Sold Price: $5,500,000. Sold Date: 05/26/2020. Aspen lots for sale. Ask Price: $5,450,000. (Original Price: $4,990,000 and 672 days on the market since 07/24/2018.) This is a 1.02 acres single family vacant lot. Broker comments are "By far the most amazing lot opportunity for 2020. Very rare to find a flat acre of land within walking distance to the Core. Astounding views of Aspen Mountain, Smuggler Mountain, Red Mountain and Mount Sopris from this private lot with plenty of room to build your dream home in Aspen. Gorgeous aspen groves, walk to town and have the land to create an outdoor recreational area that exceeds anything in Aspen with a full flat acre. Very special and unique, the land has privacy and tremendous views. See the uploaded development rights. Rights to build 9,173 heated square feet plus a 750 square foot garage. 200 yards away from American Lane lots priced over four times higher." 2019 taxes: $32,118. Under Contract Date: 05/05/2020; Sold Date: 05/26/2020. (Photos and broker comments courtesy of Whitman Fine Properties)
MLS #163404 – Ridge, 800 Ridge Road #12, Snowmass Village, CO: Sold Price: $1,225,000/$571 sq ft; furnished. Sold Date: 05/29/2020. More details below photos.
MLS #163404 – Ridge Townhomes, 800 Ridge Road #12, Snowmass Village, CO: Sold Price: $1,225,000/$571 sq ft; furnished. Sold Date: 05/29/2020. Snowmass Village townhomes for sale. Ask Price: $1,395,000. (Original Price: $1,395,000 and 82 days on the market since 03/05/2020.) This is a 1982 built, 3 bedroom/3 bath, 2,144 sq ft townhome. Broker comments are "Ski in and Ski out from the back door at Ridge #12 which is a rare opportunity to own in the highly sought after Ridge Upper Phase at a price that will allow for either an investor or end user to add significant value with their own ideas and remodel finishes. The Ridge has been one of the hottest neighborhoods in Snowmass Village for a number of reasons. It offers ski access, great space, privacy, views, reserved covered parking, ample storage areas, on – site management, on-site pool and spa, convenient shuttle access, and so much more. For more renovation ideas and potential added value – please call today to better understand this great opportunity." 2019 taxes: $5,305; HOA Dues: $18,523. Town of Snowmass Village Transfer Tax of approx. 1.0% payable by buyer. Under Contract Date: 04/27/2020; Sold Date: 05/29/2020. (Photos and broker comments courtesy of Coldwell Banker Mason Morse-SMV)
_______________